Auto Tags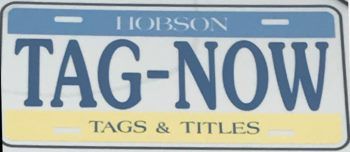 Hobson Tags and Title is located within our insurance agency on Scott St in Wilkes Barre. We offer a Full Tag & Notary Service with 3 full time notaries. No appointment necessary. No appointment necessary. We are directly online with PENNDOT.

At Hobson Tags and Title we offer the LOWEST RATES in the area for online service. Our transactions are instant. Customers receive their actual registration card, registration sticker, and license plate within a few minutes.

NO TEMPORARY REGISTRATION OR PINK SLIP.

We provide the following services for Automobiles, Trucks, Motorcyles, Trailers, Mopeds, Mobile Homes, Motorhomes, ATVs, and Snowmobiles:
Title Transfers
Registration Renewals & Updates
Duplicate Registration Cards & Stickers
Registration Transfers
T-Tags & Intransit Plates
F Stop Removals & Restorations
Duplicate Titles
Replacement of Lost License Plates
Drivers License Renewals & Updates
Get the Fast Friendly Service you deserve from Hobson Tags and Title!
New PA Residents/ Out of State to PA Title Transfers
To Obtain a PA Registration & Plate:
Your out of State Title. If financed call our office.
PA Insurance Card in the name of the registered owner or PA Declaration Page
Valid PA Drivers License
VIN tracing/ verification (MV-41) or bring the vehicle with you so we can verify the VIN#
Bill of Sale- unless the out of state title is already in your name
Trucks, Trailers, & Motorhomes Only: Unladen (empty) weight and GVWR
Mileage of the Vehicle being Registered
Cash or Debit Card only for payment.